There seems to be a lot of negative media at the moment, with COVID-19, US elections, fires and the usual local and global heartbreaking news in our faces constantly. I have found myself avoiding looking at my social media (even though it is my bread and butter!) because every time I clicked on one of the social apps, all I saw was doom and gloom. It was really dragging me down.

But, it does not have to be that way. I have come up with six quick and easy steps to turning your feed into something you enjoy seeing again.

Step one – unfollow media outlets
If you like or follow the news or other media outlets on socials, it may be time to unfollow. More than 80% of their content will make you wonder what the world is coming to! Yes, they might throw in a few good news stories here and there, but ultimately it's not enough. If you want to catch up on the news, watch the six o'clock broadcast on your phone or TV, or visit their page direct. You don't need to see this stuff in your feed.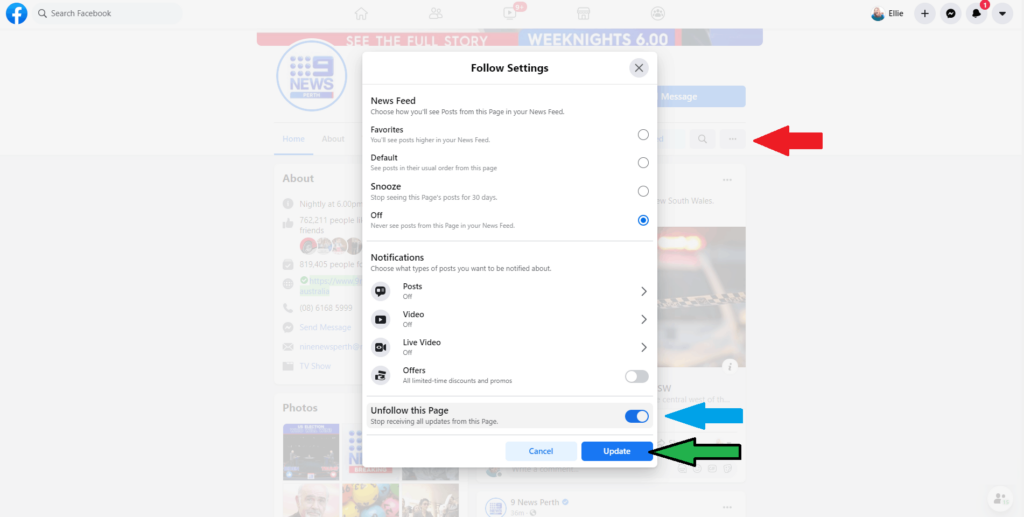 Instructions:
Go to the media outlets you follow on Facebook
Click on the 3 dots (red arrow)
Click follow settings
Turn the toggle on at the bottom of the window that says Unfollow this Page (blue arrow)
Click update (green arrow)
Step two – unfollow negative people in your life
This one is hard, but we all have these kinds of people in our lives – the ones who love to share their options on all matters that don't even relate to them. Relax your conscience though, they won't know you don't see their posts. By unfollowing them you are still friends and can connect when you want to, you just don't see what they post.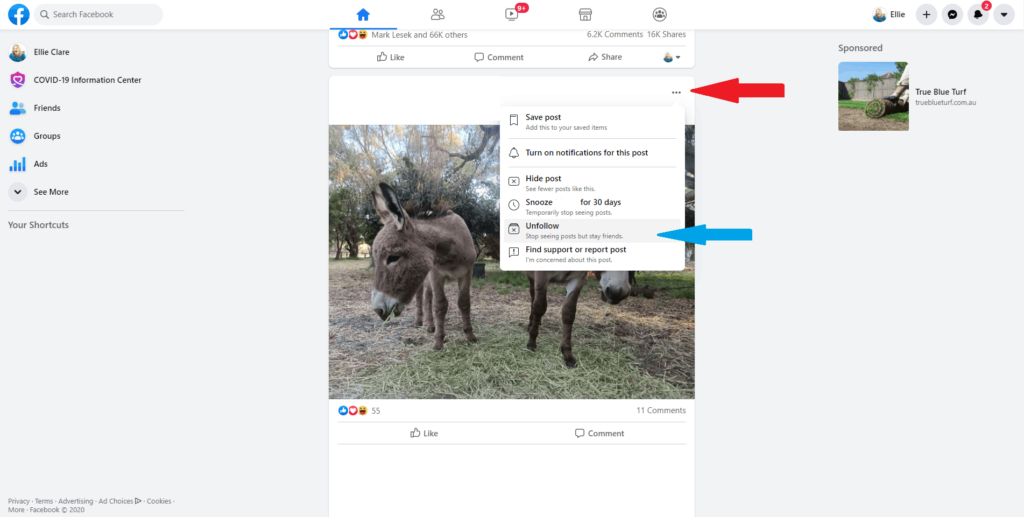 Instructions:
Find a negative post in your feed
Click on the 3 dots (red arrow)
Click Unfollow person's name (blue arrow)
Please note: I have already completed this process so the example picture I have used is not negative, it is in fact a friend's donkeys and I love to see these posts! I have also cleared the person's name for anonymity.
Step three – leave groups that don't have behavioural guidelines
If you find yourself on a community page defending your neighbour because their dog was barking, it's time to leave the group. Unfortunately, keyboard warriors are not concerned with your state of mind, they just want to have their say about anything and everything. Personally, if I have a problem in my community and are looking for input, I will make it clear that negative comments are not welcome and only solutions are required. Some people may be taken aback by this approach but you will find the right people will then be more likely to respond with helpful insights.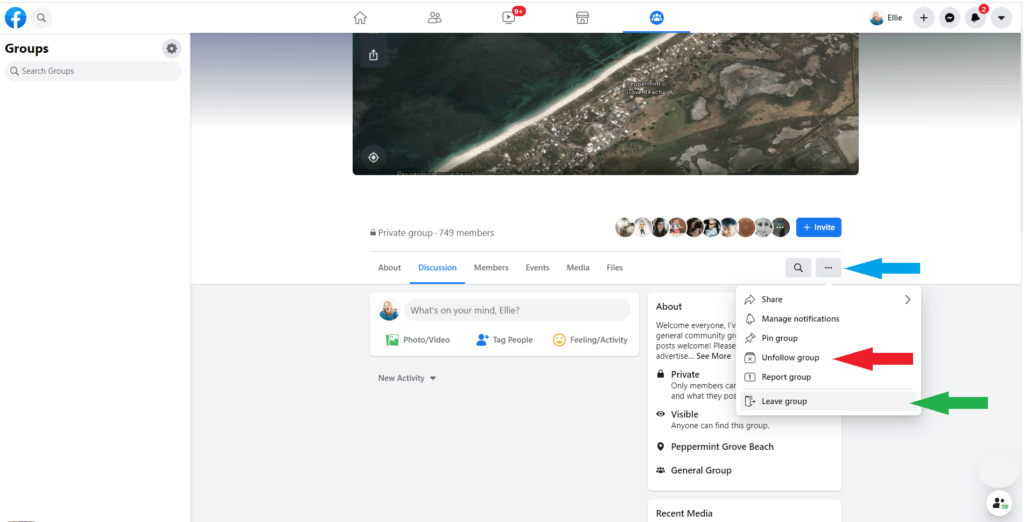 Instructions:
Visit the group you wish to leave
Click on the 3 dots (blue arrow)
Click Leave group (green arrow)
If you wish to stay in the group but don't want to see posts in your feed, then just click Unfollow group (red arrow)
TIP: If the group is renowned for negative or hostile events, then I really recommend leaving it to avoid being sucked into the negative vortex again.
Step four – follow positive affirmation groups
There are hundreds of groups out there that are dedicated to building people up instead of tearing them down.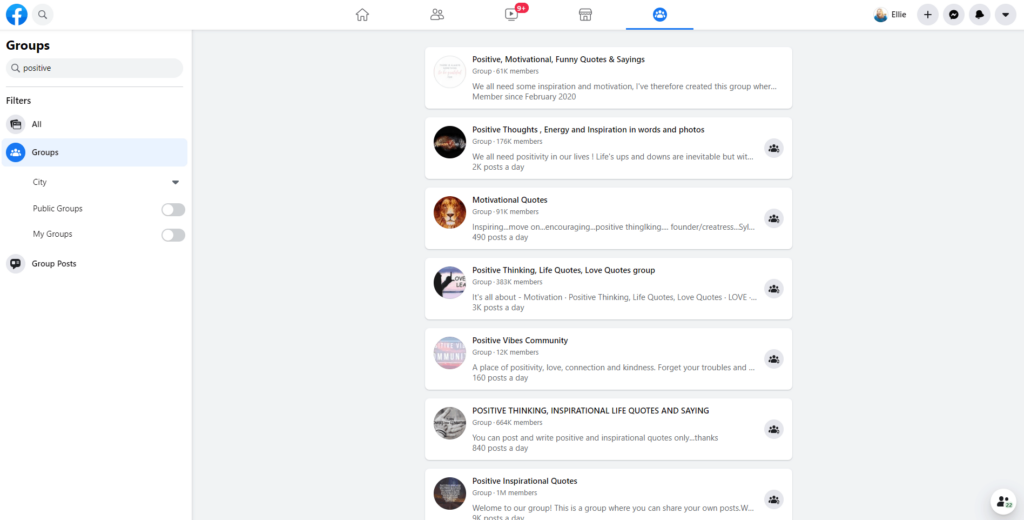 How to pick a group you are drawn to
Go to groups
In the search bar type in words such as "positive" or "motivational" then select a group to join
Ensure you follow them so their positive messages are in your feed
Step five – follow the important people in your life
If you don't see posts from your family but have friended them, then jump on their profiles and select to receive all post notifications. This will fill your feed with family (and hopefully fun) and give you back some power over what you see. While you will still see Facebook sponsored ads, you will just see less and less of the irrelevant posts from people you don't really want to hear from.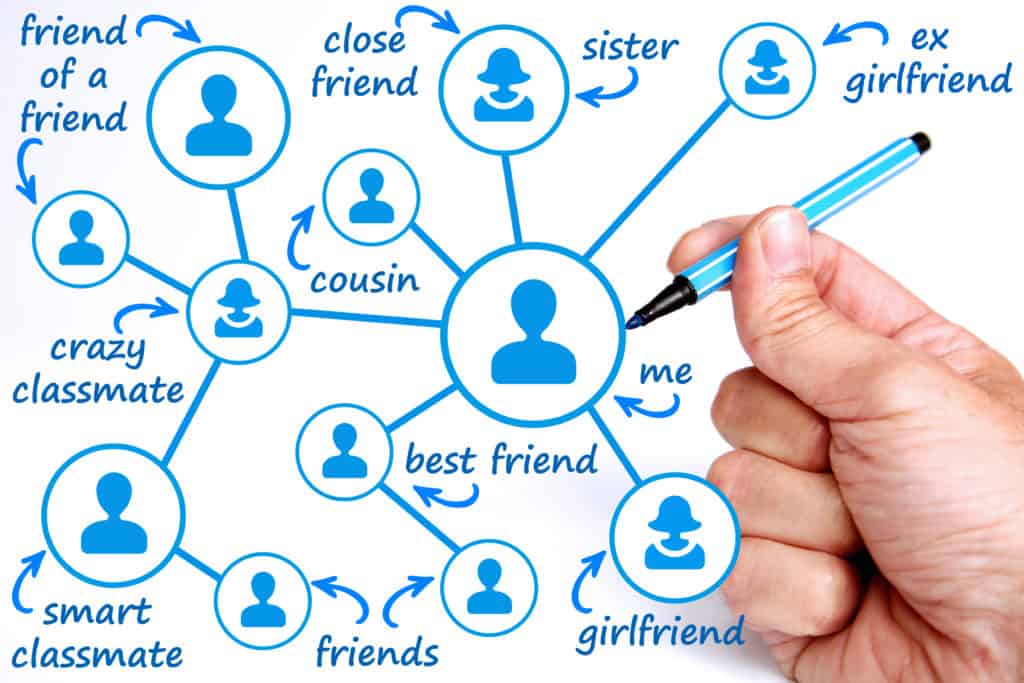 Keep an eye out for nice posts
When you come across a post that makes you feel good or inspired, click on the 3 dots to see the options, including prioritising that person in your feed.
Step six – join groups of similar interests to you
If you enjoy bike riding or knitting, for example, then find local groups of people with these interests. This will then send you posts of like-minded people and inspire you to step out of your comfort zone, try new things and feel connected.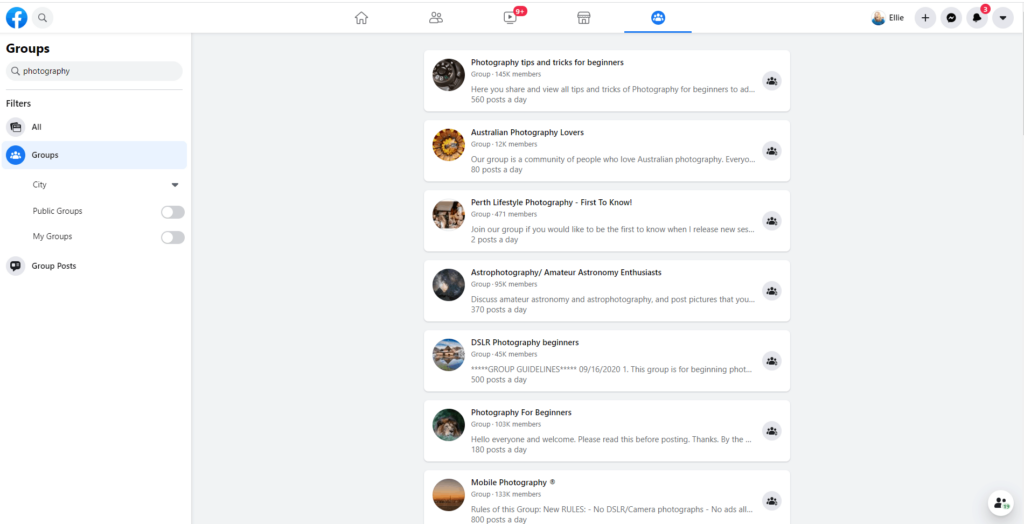 How to pick a group that will inspire you
Go to groups
In the search bar type in your interest or passion (for me, it's photography)
Join as many groups as you like
Seeing people post things that pique your interest will inspire you, TRUST ME
I hope this blog post helped you discover a whole new Facebook feed – I know it changed my life completely when I took these steps. There will always be negative people and sad events in your life, but there is no need to have them on your social media feed as well.
One last tip: Always remember that people will only show you what they want you to see on social media. If someone's life looks way too good to be true, then it probably is. Sometimes it helps to touch base with them to make sure they are actually ok. You don't have to ask them outright, but start a conversation, you will soon know the truth. Be the light at the end of someone else's dark tunnel.