Before we dive into our topic, let's start with why having a hosted email for your business is important.
Did you know that 65% of consumers believe having a professional email is more credible than a personal one? Email hosting allows you to create a custom email that fits your business, known as a domain email address.
A domain email address that matches your domain name (e.g. sales@yourbusiness.com.au) is incredibly important for helping your business earn credibility and trust online.
As an added bonus, having a domain email helps prevent your emails from ending up in the dreaded spam folder! Yep, you may be going directly to people's spam folders if you send emails from Gmail, Hotmail, Yahoo, etc.
So, why can't CLPSites host my email with my website?
Put simply, we do not offer email hosting because we do not believe it is the best practice, so we opt to outsource email hosting to a reliable service. We use and recommend Google email hosting and have all the tools you need to help navigate the setup. We can even help you switch from Outlook to the Gmail app, or with switching from Hotmail to Gmail.
Why? If something happens to our server where we host your websites, your website goes down, and your emails will too. So hosting them separately is the best way to create a digital security blanket. While we have never had a server go down, it is always possible, so we adopt the best practice to protect you and your business.
Introducing Google's Workspace email hosting service – and why you should use it
With over 1 billion people using Gmail, it's safe to say that Google has a lot of experience managing email. That's why businesses are now turning to Google for email hosting and management.
We not only recommend Google, but we use it in our own business too. CLP has worked with clients on other email hosting services a few times, but they just don't seem to offer the same user-friendly format and seamless integration with other business management systems. In our experience, Google is a super reliable business-grade email service with excellent spam filtering, cloud storage so you can work from anywhere, and a range of other premium Google apps that help you run your business with minimal fuss and effort.
Gmail vs. Gsuite (Google Workspace)
Google Mail is the free email service provided by Google, also known as Gmail. This was introduced to the market in 2004. Google Workspace (also known as GSuite) is a paid email service offered by Google which has become ever-popular since its inception in 2006 (rebranded as Gsuite in 2016).
Gmail is an excellent option for people who want to use Google's top-rated email service without fees or subscriptions, and is a popular option for personal email addresses. It provides all the basic features you need in an email account, and it's easy to set up and use on any device (and is one of the best email clients for Android).
For business owners, GSuite is the best option for domain email hosting. It also allows access to more advanced features like collaboration tools and offline access to your files on mobile devices. Gsuite has the added advantage of easy syncing with other Google apps like Drive or Docs. For this reason, Gsuite is ideal for your business email address.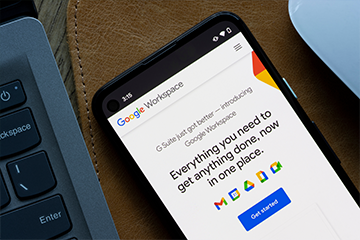 Save time and money with Google Workspace's collaboration tools
It has been estimated that each employee of an office-based business can save two hours per week in productivity by using Google Workspace's collaborative tools. This major selling point of Google mail as an effective enterprise email service is something the team at CLP Advertising can vouch for; the ability to drag an email into your Google Tasks list and add dates, times and notes has been one of the biggest times savers in our business. Plus, it allows much more effective task management and prioritising of jobs, so we ensure all work gets completed for our valued clients promptly!
Productivity has increased tenfold just because we are not reading and re-reading emails trying to decide what to do next. In addition to the Task list, Google Keep is also a game-changer for business. Keep is fantastic for creating long-term tasks and notes, or creating an ideas list or brainstorming for a job.
Thirdly, Google Calendar is LIFE! Through your Google account, you can sync your calendar to your website so people can book appointments automatically and not have to worry about sending messages and reminders. It really does save a lot of time.
For those needing to collaborate with colleagues or clients in real-time, Google Meet is a great alternative to Zoom, and we have recently begun to better utilise the vast options available with Google Sheets and Forms. All of these apps talk to each other, are in one place and are easy to use.
The offer to help you save
At CLP Advertising we love to help you save money, so we have joined forces with Google to offer you 10% off your new email service for the first year! As an already affordable service, we are proud to partner with Google to help make your business life just a little bit easier and economically viable so you have more time and money to spend on what really matters – your clients and customers.

Business Starter
$8.40 AUD/user/month
Custom and secure business email
100 participant video meetings
30 GB cloud storage per user
Security and management controls
Standard support
Use code: 7AAPALFML6VWTKV
Each promotion code provides 10% off the first year. That's a savings of $10.08 for the year.
Business Standard
$16.80 AUD/user/month
Custom and secure business email
150 participant video meetings + recording
2 TB cloud storage per user
Security and management controls
Standard support (paid upgrade to enhanced support)
Use code: C3T66K4GGL6RK7E
Each promotion code provides 10% off the first year. That's a savings of $20.16 for the year.