Stop wasting money on boosted posts! Target your audience step-by-step with Ellie.

*This is a long blog post, but by the end, you will have a much better knowledge of creating a successful Facebook ad and will be able to knock up your campaigns quickly and easily – and with great results!
Facebook ads are the most common form of advertising for any business on Facebook. However, while these ads have a significant reach, they can also be expensive. The cost of Facebook ads is why I believe it is crucial to spend some time upskilling on how to make your ad campaign more successful so you have better conversion rates and – importantly – sales.
As you read through my guide on creating a successful Facebook ad, take notes and work on your campaign as you go. Practice makes perfect! Together we will cover some of the best practices for Facebook ads, as well as tips for beginners such as using effective images and creating CTAs.
Facebook ads are an innovative way to market your product or service. With a little knowledge of how to create the perfect Facebook ad, it is possible to achieve fantastic results.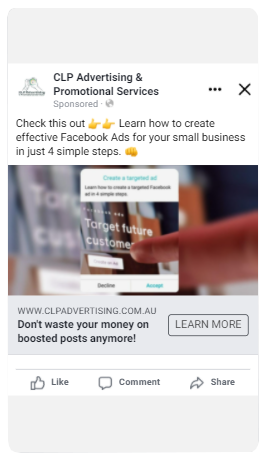 #1 – Make your headline clear and to the point
There are many best practices for Facebook ads distilled by experts over time, but I believe the number one most important aspect of a successful Facebook ad is the caption. Your caption, or headline, should be short, to the point, and unique so it immediately captures the attention of potential customers.
What is a good caption for a Facebook ad? Something punchy and engaging. Avoid annoying viewers with boring and wordy sales pitches and aim to use a relaxed but professional conversational tone. Speak as if you are addressing one viewer (your ideal client) directly.
Headlines that can work:
Clever phrases
Straightforward product benefits or features
You may have heard the advice that headlines must contain benefits and not features, which personally I believe is not always the case, just make sure you focus on conversational headlines that work to draw the viewer in.
A great tip from industry leader & Hootsuite writer: James Mulvey
"As you might have noticed in Facebook's ad builder, the 'headline' appears in the third position in the ad under the image. This would make the headline the second thing you read in the ad—so not a headline at all.

If you enter copy in the "text" field, treat this as your headline. It's the first thing your prospects will see and the "headline" functions more like a subhead for additional information."

Written by James Mulvey
This is great advice that I personally have adopted with advertising for CLP and our clients, and we are seeing great returns already!
#2 – Use an image that will draw people in and create 'tension'
Being a photographer, you know I am going to mention images when we discuss best practices for Facebook ads! My insistence on great images is for good reason, as I strongly believe the ultimate Facebook ad will have clever or creative tension between the image and the copy (text).
There are many ways to achieve this, but one of the best ways is to mix up the literal with the playful. For example, if your ad copy is more literal or formal, then make your image playful, a little fun or slightly (appropriately) cheeky. If your image is playful, create your copy so it reads more literal. This helps create tension and contrast between the image and the written content.
If you need examples to help you create an ad, check out the great free tool called AdEspresso's Facebook Ad. Here you can browse examples from every industry and be inspired. Click the button below to visit the website now.
When it comes to sourcing images, I love to create my own, but that is not always possible or practical. To help, have a read through our blog on where to find royalty-free stock images at no cost.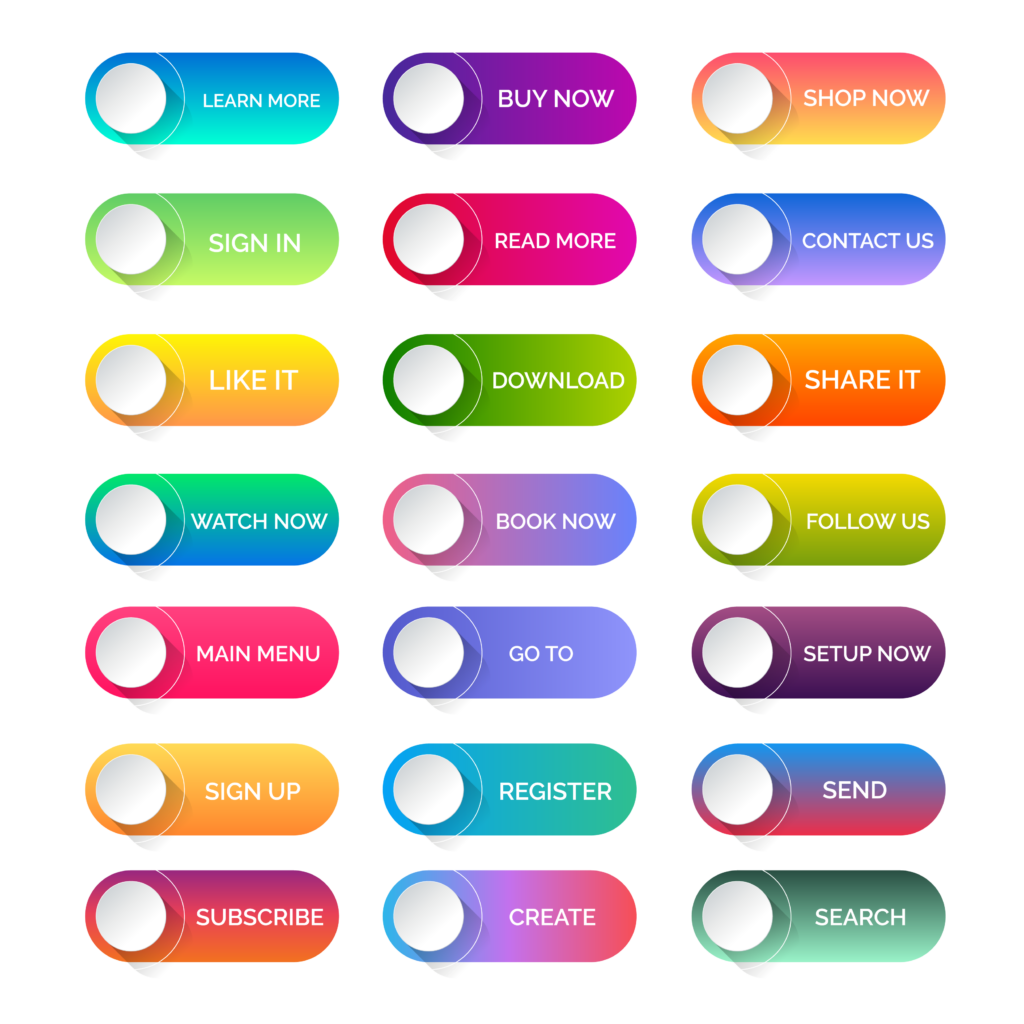 #3 – Make sure your CTA is clear and simple
When it comes down to it, a successful Facebook ad campaign has to do at least one of two things, and an effective CTA is the best way to make either happen. Firstly, you may be aiming to increase your brand awareness by engaging your audience's attention, or secondly, you may want to drive them to take direct action (such as installing your app, clicking to buy, or generating a lead). In an absolutely ideal world, you want your campaign to do both, but for simplicity, we can start by focusing on one or the other.
Just like on your website or to close out regular social media posts, calls-to-action (CTAs) are highly important to encourage conversions of any kind. Write your CTA straight to the point so your audience knows exactly what action you want them to take. Do you want more sales? Choose 'Buy now'. Are you looking for bookings? Use 'Book now'. Perhaps you have an e-book, in which case you may use 'Download now', or 'Read more' for a new blog post.
A call to action can also be as simple as asking people to comment on your post, such as their favourite xyz you are writing about. You may also encourage them to share, enter a competition or follow your page.
CTA's for different types of successful Facebook ads
Engage your audience with a brand awareness campaign
Engaging your audience in a brand awareness campaign is a solid strategy for a business, especially when starting out. The key goal is to become well-known enough that when someone is looking for your services, they know who to contact (eg: services like a locksmith, windscreen replacement, plumber in your local area and so on).
By building that long-term relationship via social media you are building brand recognition, and therefore increasing your chances of sales down the line. It is a long-term strategy, but with patience and perseverance, it can pay off. CTAs for a brand awareness campaign are things like 'Follow our Facebook page' or encouraging people to subscribe to your email list.
Direct responses may not work as well for some services, such as tradies, as they are needed in a time-sensitive manner. However, if your local audience knows your name, they can look you up when they need help.
2. Drive your audience to take direct action
With a direct action ad you want to be absolutely clear with your CTAs. For example, if you are having a sale on your new app, don't waste people's time with background info. Tell them what the app does, what the deal includes, and always use a timed offer to give the person a compelling reason to purchase the app then and there. Your CTA will clearly say 'Buy now'.
CTAs are high on the list of best practices for facebook ads, so make sure you decide on one simple action you want your audience to take and make it easy for them to do so.
Awareness, brand recognition, and consumption: Stick to CTAs such as increasing followers, reading other content (blogs), or subscribing to your email list.
Conversation: Focus on engagement such as asking for shares, getting people to comment or tag others, or even getting people to mention your business on their social media.
Intent: Focus on CTAs such as 'Learn more' or drive your audience to download other content.
Conversion: Focus on CTAs where people will take actions such as adding products to their cart ('Buy now'), requesting a sales demo, downloading an app, or even signing up for a subscription product like an online magazine.
#4 – Refine your audience targeting
I often find people setting some targeting goals on Facebook when creating Facebook ads then leaving them, rather than refining them for better results.
Facebook has endless lists of audience targeting criteria, so it is very easy to go nuts! This can often leave you confused, so you will either give in or end up with a target audience that is way too defined. In either case, this will cost you far too much to get any results.
Let's get real about targeting your Facebook ads with these tips to help you start building your ideal audience and enjoy a successful online ad campaign.
Start with a lookalike audience
Firstly, what is a lookalike audience? Basically, these are people who have similar characteristics to another already defined group. For example, you can use existing data such as people who purchased a product from your website to target similar consumers on Facebook. Lookalikes can be a very powerful tool that gives you a solid start to define your targeted audience.
Once your campaign is finished, go back to your audience selection and further narrow your group, and don't be afraid to experiment a little as you watch the results.
Try adding the below one at a time over many campaigns to see which one makes the biggest impact on your results.
Choose a target location
Add interests
Change demographics, such as income, gender, location
You can also narrow your target audience by adding categories.
Use interest categories
Add different behaviours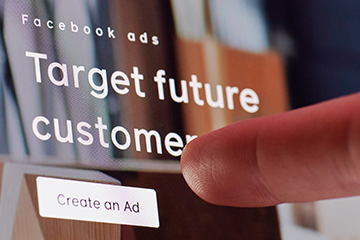 You have made it to the end of our guide – I hope you have found the information useful and are ready to roll with your latest Facebook ad campaign! To help you further, CLP Advertising offers one-on-one training sessions on how to set up and start using Ads Manager. If you are interested to learn more, please contact our team.