Canva has become an increasingly popular graphic design software option for small business owners looking for low cost (even free!) online designing tools they can use themselves. Strong visual media is important for any small business to thrive in the modern consumer landscape, and Canva is the place to go for easy, quick graphic design to help your business stand out online. There is so much to learn with this program, but to keep it simple, we have put together our top tips for why Canva is one app you should use in your business.
What is Canva?
Canva is an online graphic design software – and one of the best design tools out there – for those who have little to no experience in design (or even those with no creative bone in their body!). It's easy to use and navigate with straightforward drop and drag functions. Best of all, Canva is available as the basic free version, or at low cost if you want to level up to Pro. In our opinion, the low subscription fee is well worth the time, effort and money you would otherwise spend on other graphic design software or hiring a designer to do the work for you.
Canva was created to help everyday people make beautiful designs from scratch using just their computer and an internet connection. As a free graphic design tool, Canva comes with a library of customisable images, fonts and layouts. For the additional paid subscription, you have access to many more templates, photos, images, fonts, resizing and image editing possibilities. You can also upload your own images and fonts, as well as create a brand kit to ensure your graphics are recognisable and professional.
Some of Canva's features include:
Drop and drag editor
Image, audio and video library (built-in)
Access to a range of fonts
Pre-built templates for you to update and make your own
Easy integration with apps such as Dropbox, Pixels, Pixabay, Google Drive, Google Photos & Google Maps, making your life as a business owner so much easier.
What can Canva do for you?
As well as offering business owners access to an easy-to-use graphic design platform, Canva is also one of the best design tools for low-cost printables (note: some of these features are only available with the pro version)
Create great-looking, branded social media posts for:
Facebook
Facebook groups
Instagram
Twitter
Pinterest
Linked-in page
Linked-in profile
Tumblr
If you like what you see, why not give Canva Pro a go? Click the button below and try it for FREE on a 30-day trial! What have you got to lose?
You can also create any of the following:
Create business cards
Presentations
Slideshows
Logos
Letterheads
Reports
Proposals
Invoices
Memos
Menus
Infographics (such as the one shown below)
Blog banners
Ebooks & ebook covers
Youtube thumbnails & video ads
Brochures
Posters
Flyers
T-shirts
Mugs
Coupons
And more!
How much does Canva cost?
The free version of Canva is more than adequate if you are starting out, but there is also a Pro version that will take graphic design for your business to the next level. Canva Pro is just $17.99 per month, or a discounted $164.99 for a year – and you get so much value.
Here are some of the benefits of Canva Pro you may like to consider:
Being able to add a brand kit for your business saves so much time in re-designing a template; you just click the brand kit button and it changes all the colours, fonts and logos to your business branding. If you have more than one business, no problem! You can have up to 100 brand kits!
With the Pro version, you can sort your designs into folders, which makes things easy to find and quicker to use.
Canva has an inbuilt background remover available with the paid version of this fantastic graphic design software. As avid and very experienced Photoshop users, this is a game-changer. It took years to master removing backgrounds, but now it is as simple as clicking a button!
With the in-built social media scheduler, you can not only create but also post your social media graphics across various platforms. Canva will publish your designated posts directly to your social media, so there is no need to buy expensive scheduling software.
Ultimately, if you're not sure if you will get your money's worth from Canva Pro, the free version is definitely worth having and will do everything you need it to. However, with a 30-day trial for Canva Pro now on, you may as well give it a go!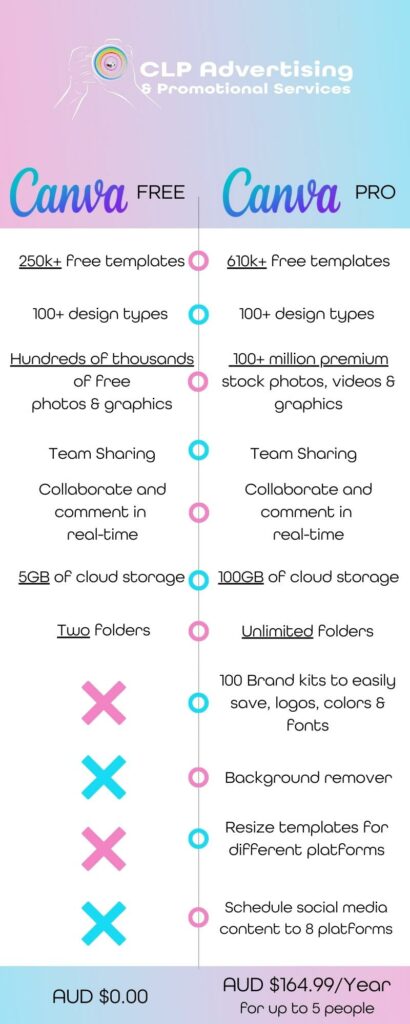 Become a real Canva pro!
CLP Advertising is currently developing an online course for Canva to teach you additional skills to use this platform effectively and efficiently. We will cover not only how to use Canva as a basic online designing tool, but teach you some of our favourite graphic design tricks along the way. Through our short online course, you will discover how to create amazing branding at a fraction of the price a graphic designer would charge.
If you're interested in this course, register via the form below and be one of the first to have access!