Reviews are so important for online presence growth and should be part of every social media marketing strategy. Reviews offer prospective customers social proof of your value by sharing what you have to offer from the people that matter – fellow customers. This takes advantage of the social proof principle, a form of word-of-mouth marketing that is one of the best ways to generate more leads, conversions, and new customers. It can also be a great way to get feedback from customers about your products and services, and reviews can help customers make informed decisions about what they buy and where they spend their money.
Reviews have become more important than ever across just about every industry because people are more likely to trust reviews than anything else. We believe reviews are the most powerful form of marketing today, so it's really important for businesses to ask for them.
However, asking customers for feedback and requesting written responses can feel a bit daunting, so to help, we have put together some tips to help you get reviews.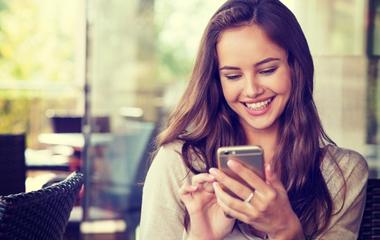 Find the right person to approach. Think carefully about which past customer or client you will ask for a review. Some people are simply too busy, or just not interested in helping out in this way. By approaching the right person, you may avoid wasting time on requests that will never get a response, and are more likely to get a favourable, usable review to use in your social media marketing.
Be clear and concise with your requests. The more specific you can be with what you need, the more likely they are going to respond back quickly and efficiently. Tell them exactly what they need to do and how, and make the process simple.
Be polite and professional in all correspondence. Remember, your customer does not need to leave you a review! Don't make it seem like you expect it; always be genuine and kind.
Make it easy. The easier you make it for them, the more likely they will be to take action. For example, provide links, QR codes or clickable buttons that take them directly to your review page.
The 5 best review marketing strategies that will grow your business & online presence
To get you started collecting quality reviews and feedback from your customers, here are five of the best review marketing strategies that will grow your business and online presence, including some templates to use.
1. Asking for reviews in person
If you have a customer singing your praises face-to-face, then this is a great time to ask them to review your business.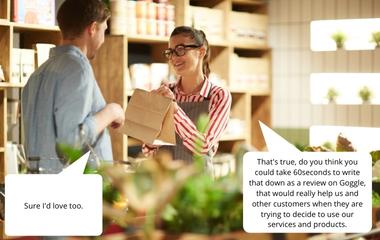 How to ask for the review:
Happy customer: (signing your praises)

You: Wow thank you so much, it is always nice to hear that we are doing well, thank you so much for the feedback.

Customer: Well if you provide great service, then you should be praised.

You: Thank you. Hey, do you think you could take 60 seconds to write that down as a review on (platform), that would really help us and other customers when they are trying to decide to use our services.

Customer: Sure, I'd love to.

You: Great! Here is a QR code to help you find our review platform easily.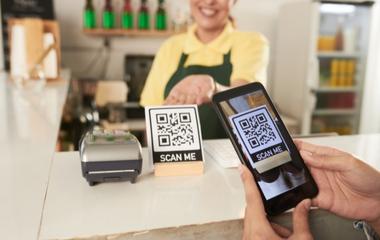 Pro tip: Have a QR code close by so your customer can scan it and be taken directly to your review page then and there. If they walk away without doing the review, it will probably be forgotten. 

Ellie Clare | CLP Advertising
2. Asking for a review via text message
Text messages are a very popular way to ask for reviews. Messages take the information and an easily clickable link right to their fingertips.
There are two options here; you can either ask for your review or feedback personally via text or FaceBook message, or you could use an SMS review service. Either way, here are some ideas on how to word your text message to get reviews.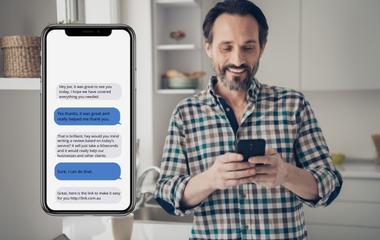 Asking personally via text message
Business: Hey Joe, it was great to see you today, I hope we have covered everything you needed.

Customer: Yes, thanks, it was great and really helped me.

Business: That is brilliant. Hey, would you mind writing a review based on today's service? It will just take a 60 seconds and it would really help our businesses and other clients.

Customer: Sure, I can do that.

Business: Great, here is the link to make it easy for you (insert link). I really appreciate you taking the time to do this.
Asking with an SMS review service
Thank you for visiting (business name) today. Your feedback is important to us. If you could take 60 seconds to leave a review on your experience, please click the link (insert link). Reply STOP to end messages.
3. Asking for a review via email
Email is still one of the strongest ways to get reviews. The options for setting up a system are endless, and automating to minimise your to-do list is much simpler via email platforms.
Here are a couple of templates you could use to ask for reviews via email in your business.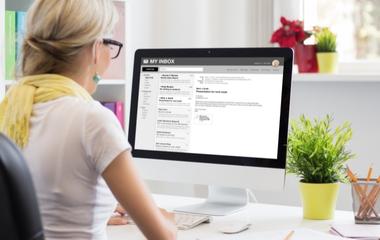 The personal touch
Dear [first name]
Thank you for your purchase today. We hope you love it!
Would you be so kind as to leave us a review? This will help us continue providing great products, plus it helps other customers like you find us and enjoy our products too.
Thanks, kindly (your name)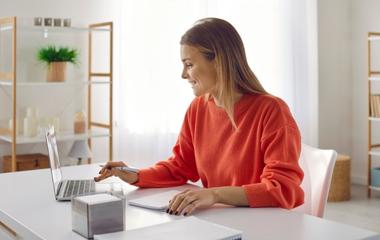 The email blast
Hey everyone!
Reviews from awesome customers like you can help others feel confident about choosing to work with us. Could you take 60 seconds to share your experiences? Just click the link and it will take you to our review page.
We will be forever grateful. Thank you in advance for helping us out!
4. Asking for reviews (online stores, post-purchase)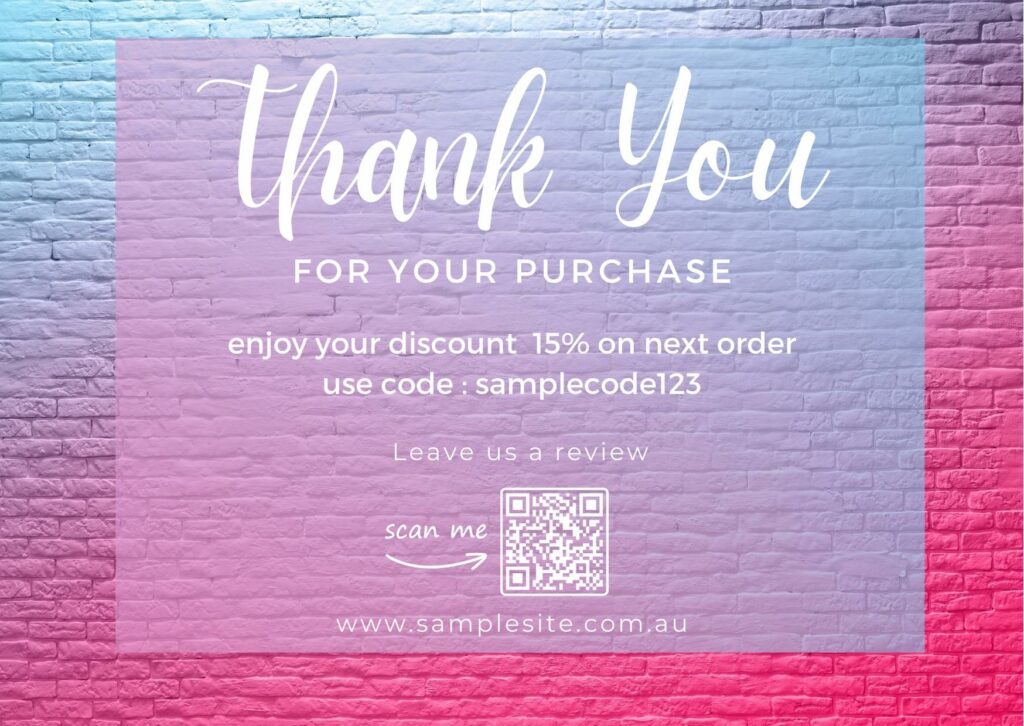 Asking for reviews from online customers can be really fun and quite easy. Simply add a QR Code to your review page on your thank you card, which you can easily create in Canva. Including a little bonus offer like this example can also help entice customers to leave a review for your business, and become repeat purchasers.
5. Ask for reviews on your website
Asking for reviews on your website by creating a CTA in various places on your site is a great way to get more reviews. You can have a dedicated testimonial page or just a section on your landing page. Always clearly display reviews you already have to encourage more customer reviews and help boost that social proof.
Does this help you feel more confident about asking your customers for reviews?
If you're still unsure then contact us and we can teach you more one on one, or even help you set it all up. It really is simple once you know how and you won't regret the outcome.