I wrote this blog to help you understand the importance of responding when your business is mentioned or tagged on Facebook.
I recently found myself having to move house and was quite busy with work and didn't have a lot of help. So, I put some messages out into the Facebook universe, and thankfully found a lot of friends offering fantastic advice and recommendations.
One thing I noticed amongst the chaos was that more often than not, the businesses tagged in my call for help didn't bother to respond or thank the referee. Similarly, very few contacted me directly to offer their services.
Being a busy person (which most of us are these days), I greatly appreciate businesses coming forward to help. This saves me having to search for phone numbers and other reviews. If a company does contact me, then they have the job, so win-win! If multiple companies contact me, then obviously I will go by what they can deliver and how much it will cost, so they need to sell it. In this busy world, I know I am not the only one who feels this way. After all, connecting to others and collaborating is the major reason social media exists!
What to do when you are mentioned or tagged
When your business is mentioned or tagged on Facebook, the first thing to do is go in and reply to the comment to thank the referee – tell them how much you appreciate their support! Then, take the initiative to inbox the person asking for a recommendation, offering to give them a call to discuss their options.
Don't lead with a quote, that just makes the person feel targeted. Lead with something like, 'hey, I saw your post on social media and wanted to see if I could help you in any way. Maybe I can take the stress out of moving?' When that person gets back to you (and they will), then you can let them know what you can do and how much it will cost them.
If your prices are higher than your competitors and they question this, don't feel like you need to explain yourself. Let the prospective customer know what you offer and the quality they will receive with your services.
What's the difference between a mention or tag on Facebook?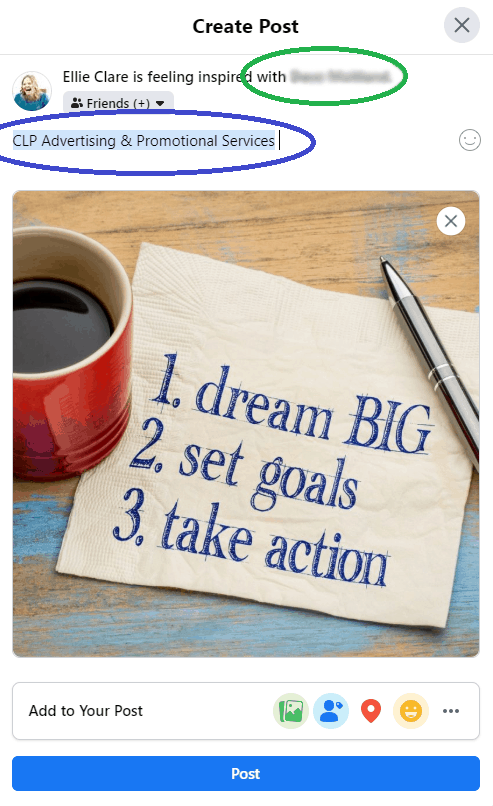 Being mentioned on Facebook is when you post or leave a comment that includes a person's or page's name within the text. The name highlights in blue and links to that page or profile. The person or page admins will also receive a notification that they were mentioned (for example, see the blue circle).
How to mention on Facebook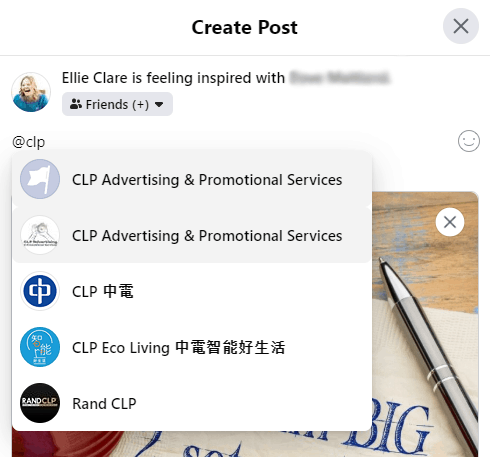 Being tagged on Facebook is when you post and let people know you were with another Facebook user. Alternatively, you share an image and 'tag' a person in the picture. Doing this will also notify the tagged person about the post (for example, see the green circle).
How to tag on Facebook
How to tag a business
You can't directly tag a business page, but you can post that you were 'at' the business.
Click the check-in button (red circle)
Type in or select the business page name
Click Done
The end result is circled in green
Join your local groups
In order to see notifications for groups mentioned or tagged on Facebook, you will need to be a member. If you run a small business, you may want to join the local community groups, buy and sell groups and any other groups that might be relevant to your business. For example, if you sell kids toys, you might want to join up to the local mother's groups.
This doesn't mean you need to bombard people with posting about your business in these groups, it just enables people to tag you or your business and you will receive the notification and be able to respond.
Enabling your business to be tagged in posts
It is always best to check if you and your business can be 'mentioned' in a post, such as a recommendation. The settings for this are easy to find and update.
Go to your business page
Click on Page Settings at the bottom on the left-hand side
Under General, find Tagging Ability
Click Edit
Put a check in the box that says 'Allow others to tag photos and videos published by (your page name)
Click Save Changes
Under Tagging Ability is 'Others Tagging this Page'
Put a check in the following boxes:
– Allow people and other Pages to tag (your page name)
– Allow Facebook stories shared from Instagram to tag my Page.
Click Save Changes
In conclusion, it is important to be active on social media as a business owner. Making it easy for people to find you, as well as actually going out to find customers and clients (and making life easier for them) will help your business immensely.
If you have any questions or require any guidance with your social media, please feel free to contact us.