As a photographer, this subject is always on topic when I am talking to clients about images. Where and how you can use images online can be full of confusion, but they are so important! To help bust some myths and concerns, here are the seven most common questions (and answers!) I hear about using images in your digital space.
Just to reiterate, using images in your digital media and marketing is essential. Pictures are an important tool to draw attention to your social posts, and quality pictures can boost engagement by up to 37% on Facebook (and that number has steadily increased each year). However, unfortunately, if you don't do your research and use photos with the correct permissions and rights, you could face severe consequences. So, read on and let's answer your questions.
Question one: Should I use images on my blog?
Answer: YES!!!
Images make your blog, social media and other digital media more visually appealing. In addition, using a relevant image or graphic that sets the right mood or relates directly to the topic can attract 94% more traffic than blogs without images. Don't skip using pictures even when it feels difficult to find the right one.
Question two: Can I just download an image from Google?
Answer: YES & NO!!! Ok, this is clear as mud, so let's dive deeper.
Some images on Google are public domain (which means you can freely use them) but you need to check first. I have included instructions in question six on how to find out if an image is public domain or common creative, as well as what these terms mean.
There are a lot of images on Google that are owned by someone, so in that case you need to ask for permission to use one you like. This is not always easy, but thankfully there are better options than using Google as your photo library.
Question three: What happens if I use copyrighted images?
Clever copyright holders can do a "reverse image search" to find where their images are being used, such as Google's Search by Image and TinEye. These help content creators track their images and catch people using them without permission.
Using a copyrighted image without permission violates the Copyright Act 1968 and the owner can take legal action against you and|or your business (and even if you remove that image, you can still be prosecuted). My advice? Check the copyright before you use anyone else's image.
Search engines like Google also have algorithms in place that penalise websites for using copyright content or "duplicated" content. If you copy, paste and post, then you will be penalised by the search engine. If you do this regularly, you run the risk of your site being removed altogether, so using copyright content really isn't worth it.
Question four: How do I use copyrighted images legally?
There are two parts to this question, but I want to start by saying some copyright holders won't mind if you use their images if you credit them by linking back to their website or socials. But, this is not always the case…
Answer 1 – you can ask the creator/owner for permission to use their image
Contact the copyright holder to ask them for permission, as well as offer to credit the photo and link back to their website. If the owner grants permission, below are some examples of how to credit an image.
Answer 2 – does the use of the image fall under 'fair use'?
'Fair use' comes into play when you are using the image for purposes such as commentary or criticism, for example a product review. Read more about Fair Use in Australia.
Question five: Where can I download copyright-free images?
The good news is there are numerous places you can get copyright-free images to use. You won't need to ask for permission, but you should still check their terms to ensure you are crediting them properly.
There are two types of copyright-free images:
Public domain (PD): These are images that can be used freely without permission or attribution
Creative Commons (CC): These are images that can be used freely as long as they are correctly attributed to their creator
Some of the best websites that host copyright-free images are:
These are just a selection and there are plenty more out there, but be careful when you are looking for free images as some of these sites have sponsored images that have to be paid for.
If you are looking for much higher quality or a better selection of images, paying for specific stock images can be a worthwhile option. Check out these sites for stock images:
Even though you are paying for these, be sure to check the terms as you may still need to credit the creator or copyright holder.
Question six: How do I know if an image is PD or CC on Google?
You can also search for Creative Commons images using Google Image Search and filtering according to usage rights. To do this, click on Tools, then Usage Rights, then select Creative Commons licences (as shown below).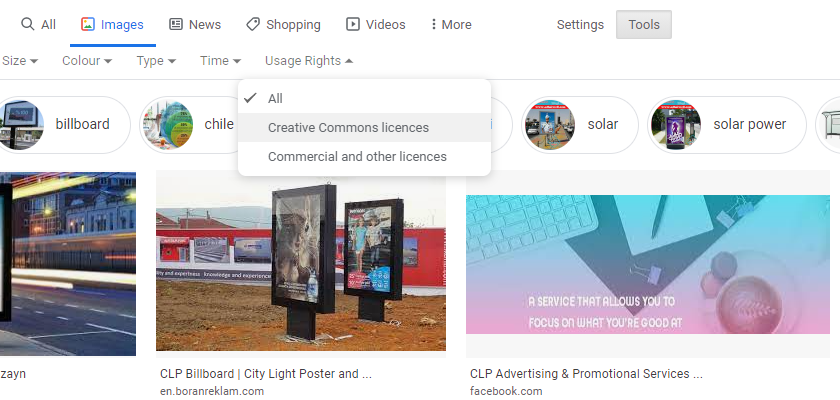 Question seven: Should I hire a photographer?
If you have the budget to outsource, then YES! Why? Because people are used to seeing stock images, and having photos of you and your business is much more attractive to customers. It shows authenticity and helps your audience get to know you better.
If you are in the market for quality, unique images, we offer affordable packages for business photography. See below for package details.
In addition, all contracted clients receive a FREE photo shoot every quarter they are signed up for our services. It is worth looking into. Contact us to discuss how we can work together to help your business grow online.