This post is all about optimising your Google My Business listing to increase your search ranking. The best way to improve your ranking is to create quality content so by making your business stand out on GMB you should do the following;
Adding photos
Creating videos
Include business hours
Adding a description of your business
Adding frequently asked questions and answers (FAQ)
Communicating with your audience via messenger
Taking bookings
Replying to reviews
Creating posts
Let's get started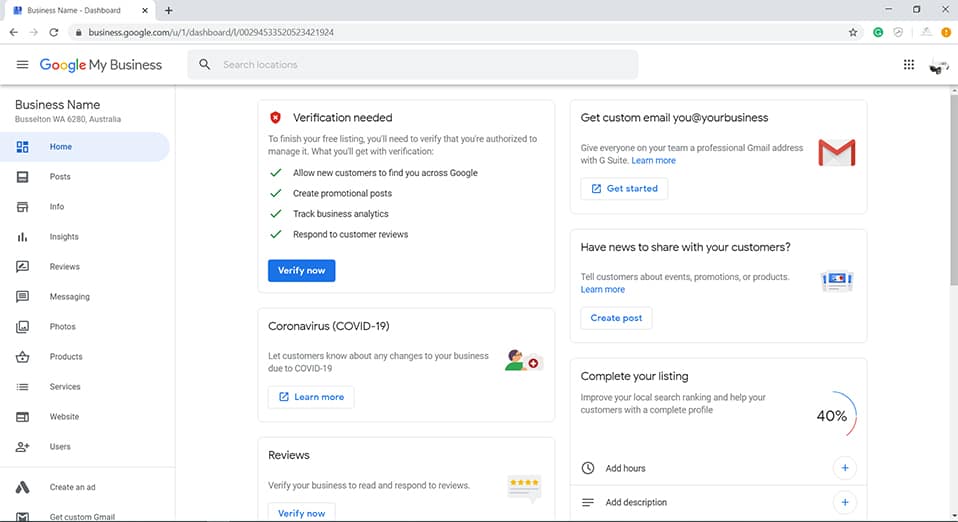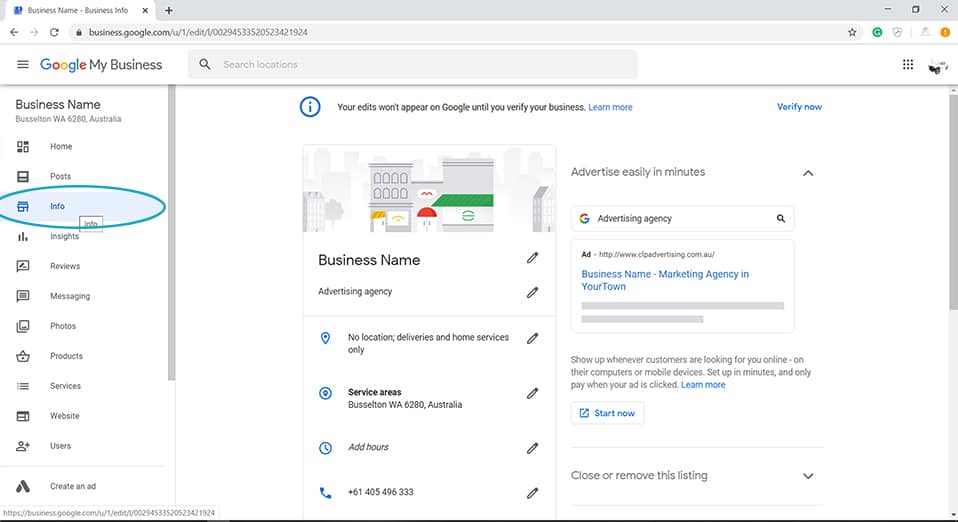 Firstly, we want to add as much information to listing as possible.
Click the Info tab
Click on each of the pencils under your business name to add all the information you can.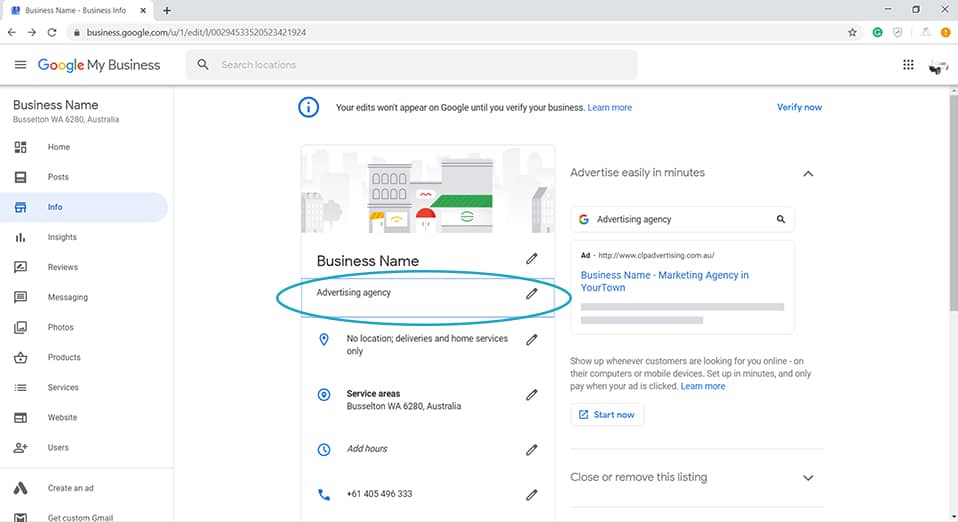 Add additional categories
Click the pencil
and select add additional categories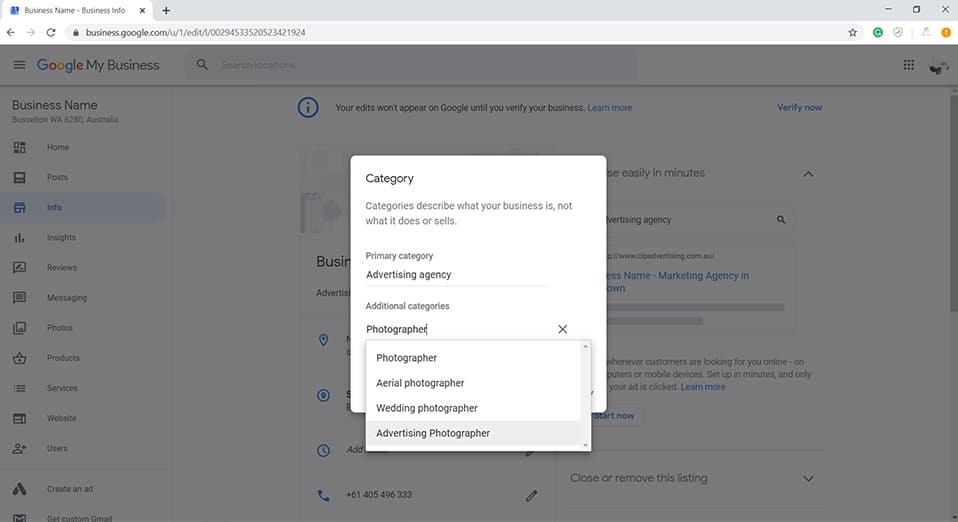 Type in other categories that are relevant to your business and choose the closes one.
Select a minimum of 3 categories.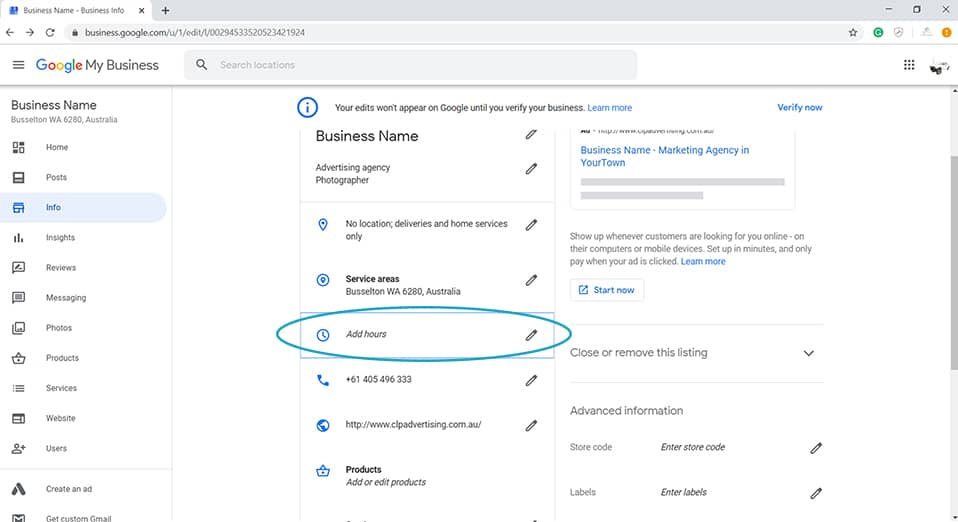 Now add hours
Click on the pencil next to add hours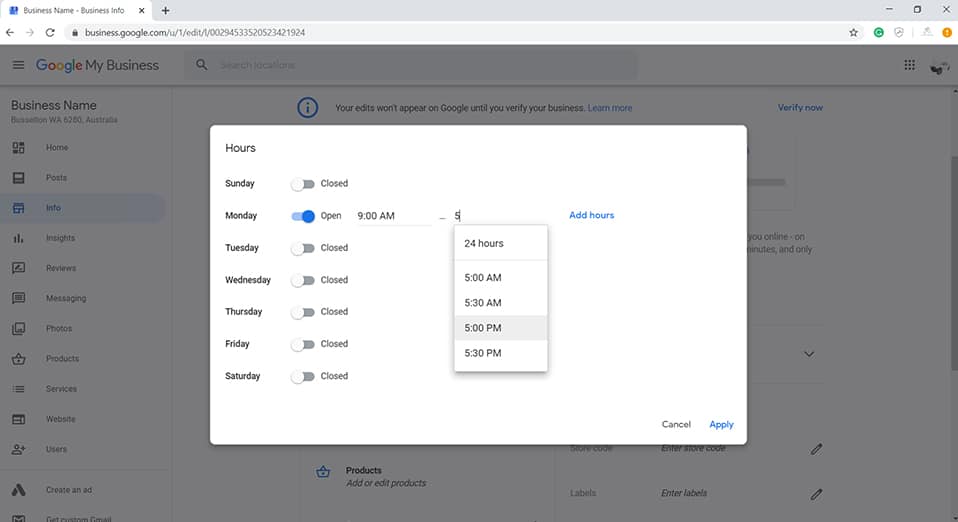 Turn on the toggle to the relevant days you will be open
type in and|or select the time you open each day
type in and|or select the time you close for each day
Click Apply
Add public holiday information
If you plan on being open or closed on public holidays or any other special dates let people know.
Click on Add special hours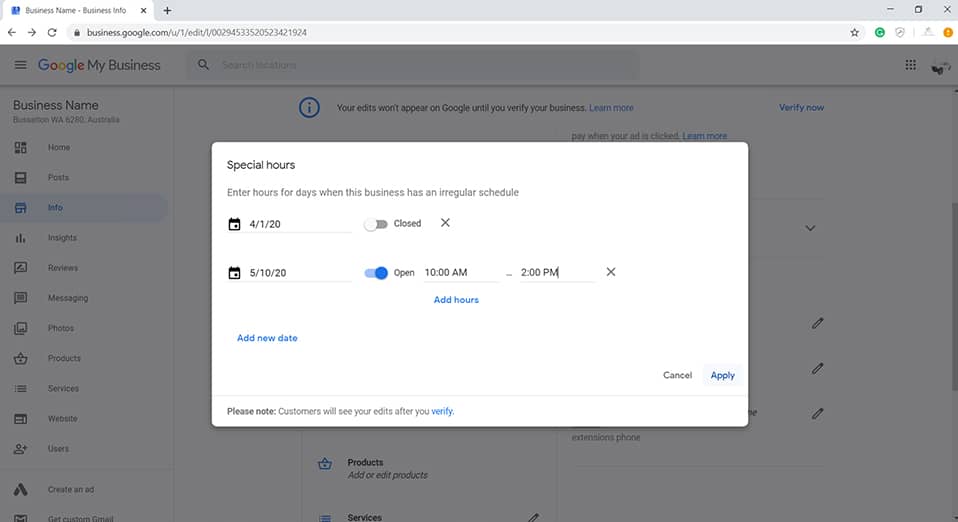 Select the date
turn on the toggle and select the hours you will be open
turn off the toggle to show as closed
Click Apply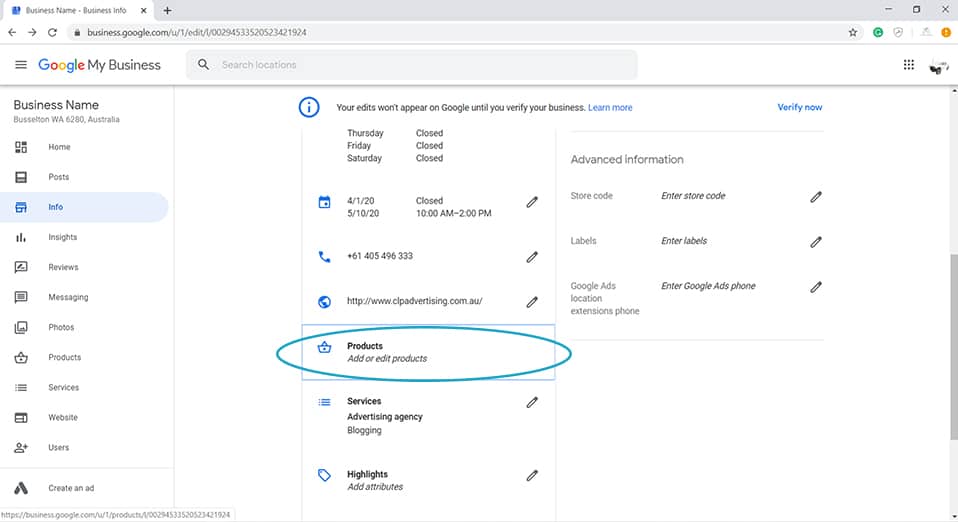 Product-based Business
If you are a product-based business you can click on the products tab and add-in products to sell directly from the search field in google.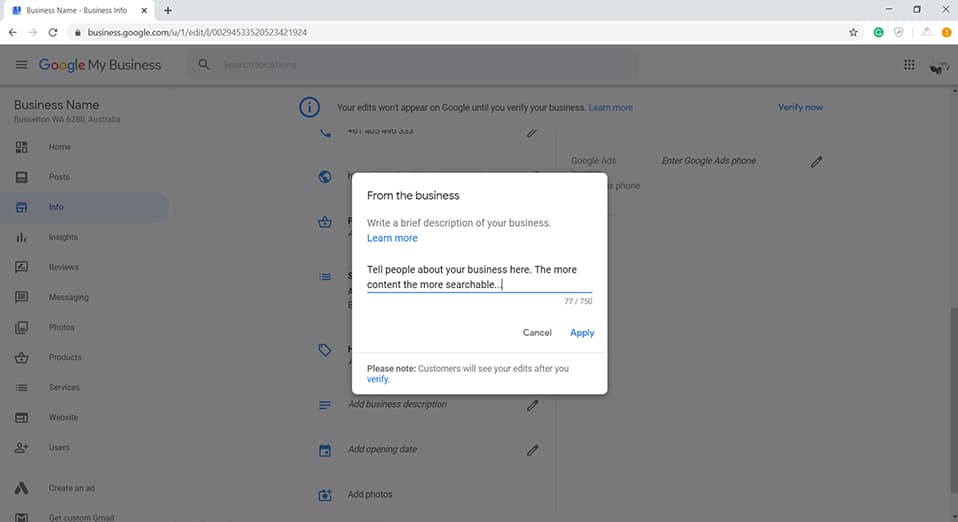 Add a business description
Click on the pencil next to add a business description.
Then write a brief description of your business, you have up to 750 characters the more you add the more people can find you in a search.
Click Apply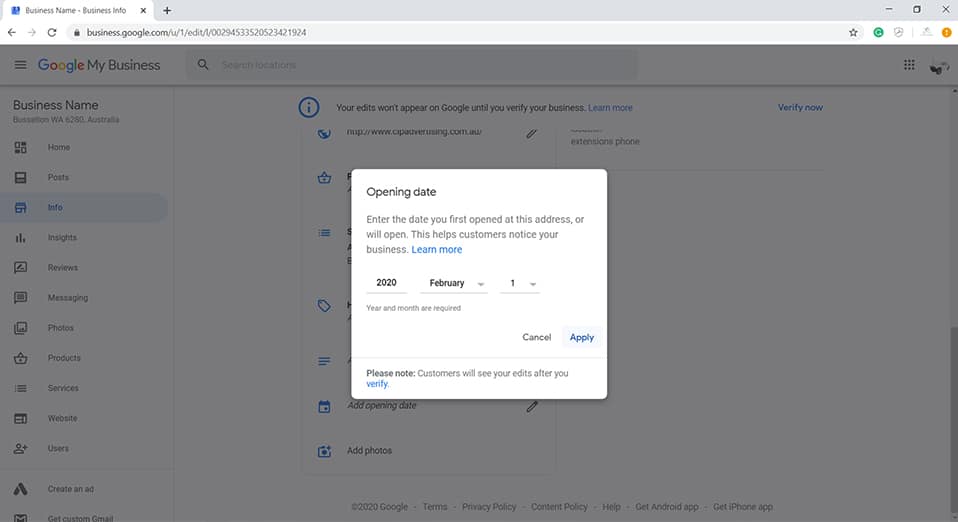 Add your opening date
If you know the launch date of your business then pop this in under the opening date.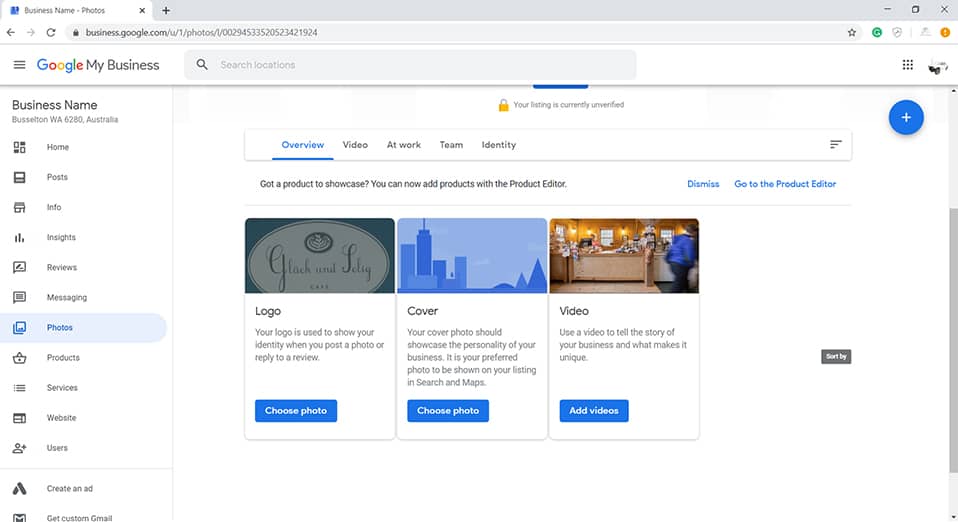 Now let's make your Business listing look awesome
Photo and videos will attach customers more than text.
Click Choose photo under the logo, drag your logo image into the box.
Note: best image size for the logo is 1080 px by 1080 px.
Click Choose photo under the cover heading, drag your cover image into the box to upload.
Below is a template to use to create a GMB cover image. Our recommended size is (w) 661px by (h) 367 px. This has been optimised to suit any viewer from a desktop to a mobile phone.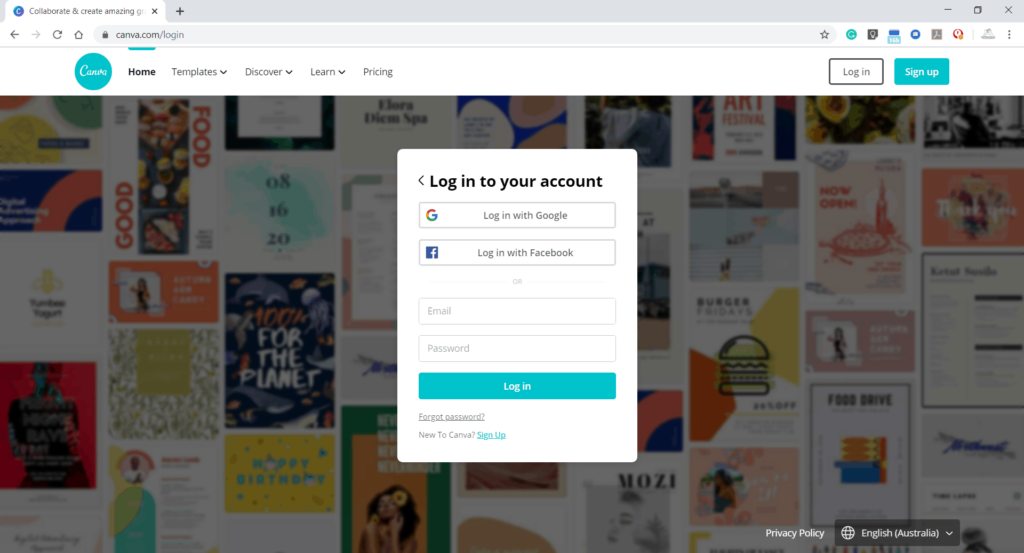 If you don't have image editing software there is a great free program call Canva, just choose to create an image with custom dimensions. Their recommendations are different and not as effective in our experience.
Other types of images you can and should add; At work, photos are images of your business and the people at work. You can also add team photos so that when people visit you they arrive to a familiar face.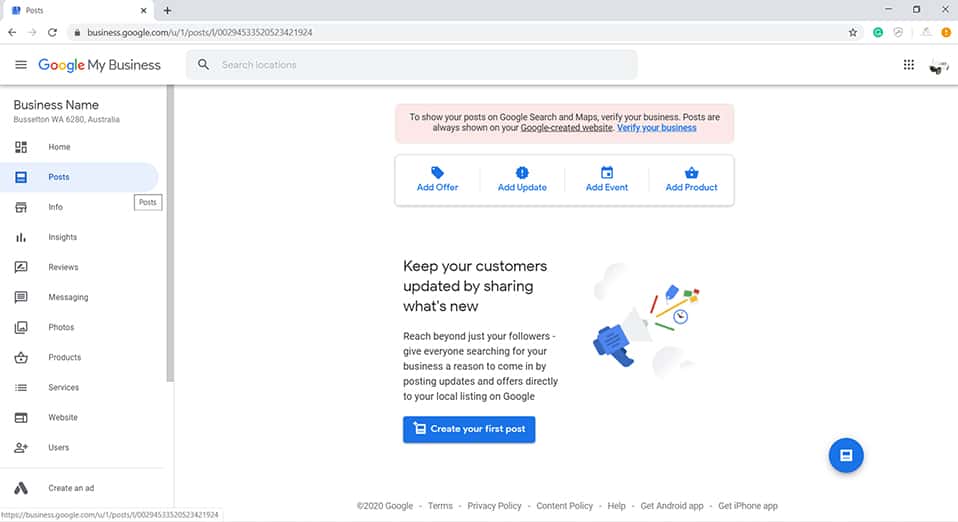 Create posts
in order to keep your GMB current and showing regular updates for your clients and the search bots posts are a really good way to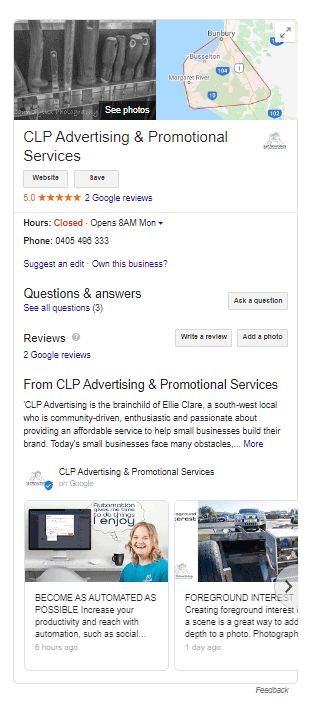 Where do my posts show up?
Well when people search for your business or use keywords put into your website that is linked to your GMB, it will show posts in the search results. But also they show up at the bottom of your listing itself, as shown in the picture.
This listing at a glance also shows them the following information
Business Name
Your review ranking (stars)
Hours you are open
Phone number
Address if you have a physical location or service area if you don't.
Questions and Answers
Your business description
It also enables people to click write a review, visit your website and add photos of your business they have taken.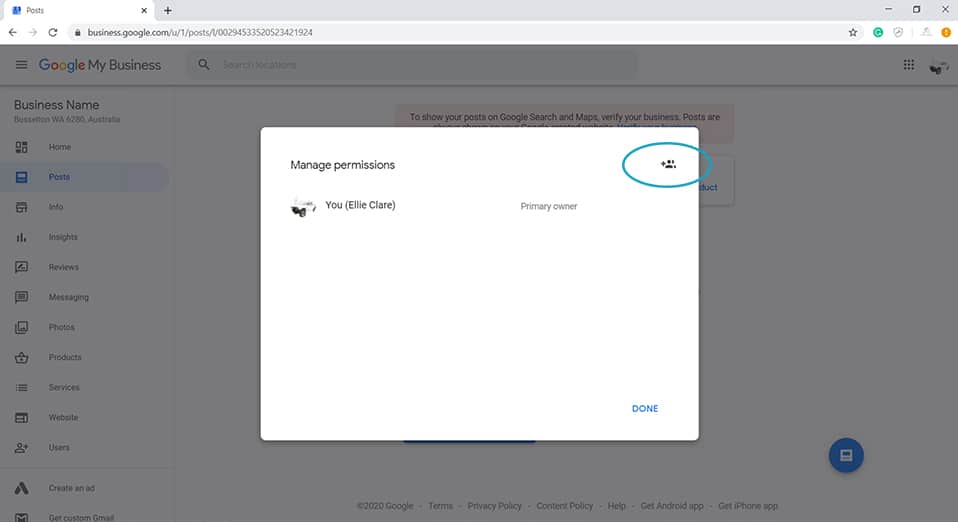 Users Tab
If you have more than one person who contributes to your online presence you can add additional uses to your account.
Click Users
Click the button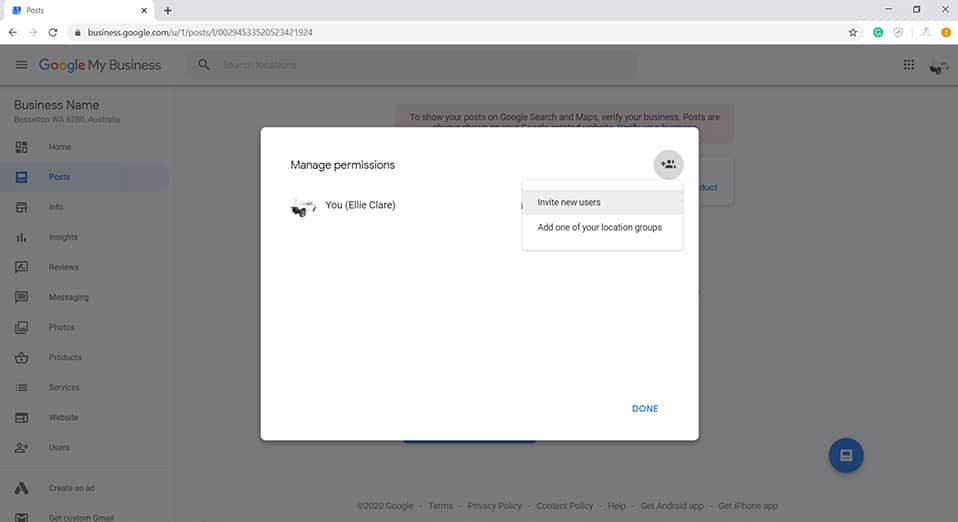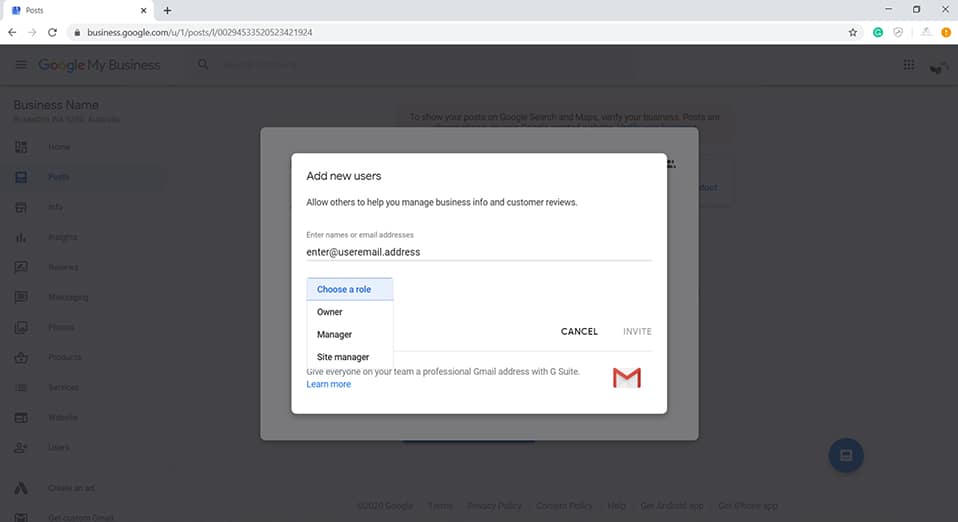 Type in the email address of the new user
Click Choose a role and choose one of the following
Click Invite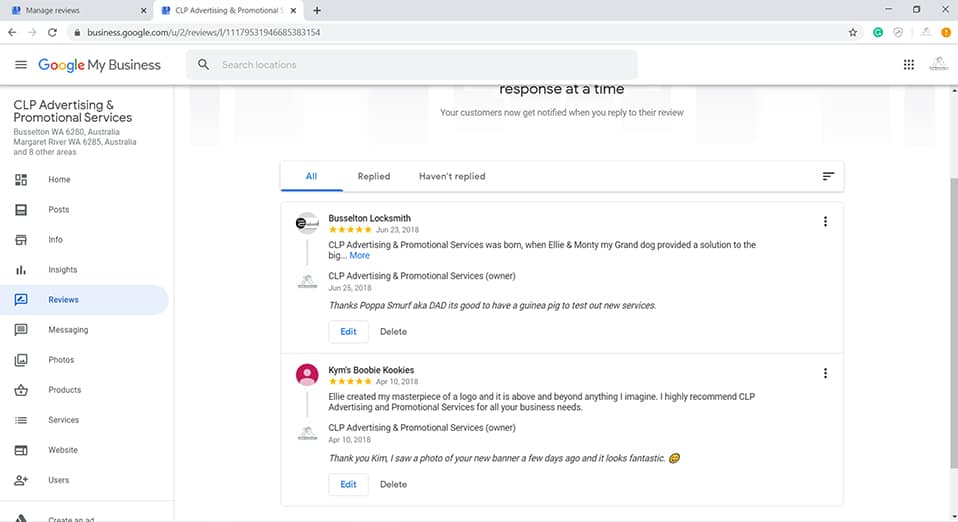 Reviews
Essentially reviews are the holy grail of search ranking, the better your reviews the better you rank. It has been said that reviews make up over 50 percent of your ranking.
That said, you need regular reviews to keep this ranking.
What if I get a bad review
Never fear people don't take notice the bad reviews. What they look for is the way that you respond to it. Always stay polite and professional, never take a bad review personally. (easily said we know). Try to take it as a learning curve or with a grain of salt because we all know there are keyboard warriors out there who are never happy no matter how hard you try to help me.
Sample of a response to a negative review.
"Thank you for your review, your feedback is important to our business and we would like to find out more about your experience so we can work on improving our service. Please call us on PHONE NUMBER to discuss."
Thank you kindly YOUR NAME
It is always best to discuss these matters privately because if the person isn't rational you do not want to have a public conversation.