An essential part of your local SEO strategy
We think the MOZ Blog sums this topic up perfectly by saying:
"The quality, consistency, and spread of your local business data has a direct impact on your local search engine rankings, which leads to web traffic, foot traffic, and transactions. Given the importance of this foundational piece of the local search marketing puzzle, it's well worth the time to be sure that your listings are accurate, complete, and discoverable on the most important platforms."
Listing your business on local directories is just as important in 2021 as it was in 2018. But you don't have to take our word for it. According to industry leaders, having consistent NAP details (name, address, phone number) on the best business directories is a critical local ranking factor.
The main and most important local directory listing service is Google My Business, and 46% of searches on Google have local intent. If you have been following our blog you should already have a listing and be keeping it up-to-date. If you don't, then STOP WHAT YOU ARE DOING, click the button below and go and do it. This is not a polite request – this is me TELLING YOU in the nicest way possible!

Let's rectify this! On top of Google My Business, you need other local directory listings too. To help you out, we have put together a few tips, tricks and tools to get your local listings up and running.
Prepare your listing information before you start
Submitting information to listing directories involves entering the same information repeatedly, so being prepared will avoid wasting a lot of time.
Before we start, we recommend avoiding the "hacks". This means avoiding directory submission tools. These systems often fail due to the variety of platforms and unique fields each directory has, and some even have hidden fields to trick the automatic submission tools.
To build a strong foundation for your local SEO, follow the recommendations below.
Gather the following information into one document:
2-3 business listing titles
Submission email address
Business contact email address
Business phone number
Business ABN
Website domain
Social media links
2-3 unique business descriptions (typically 200 words max)
Square logo image (300px is best viewed on most websites)
5 business-related images
Click download below for a free Local Listing Directory Information Form to help you gather your information.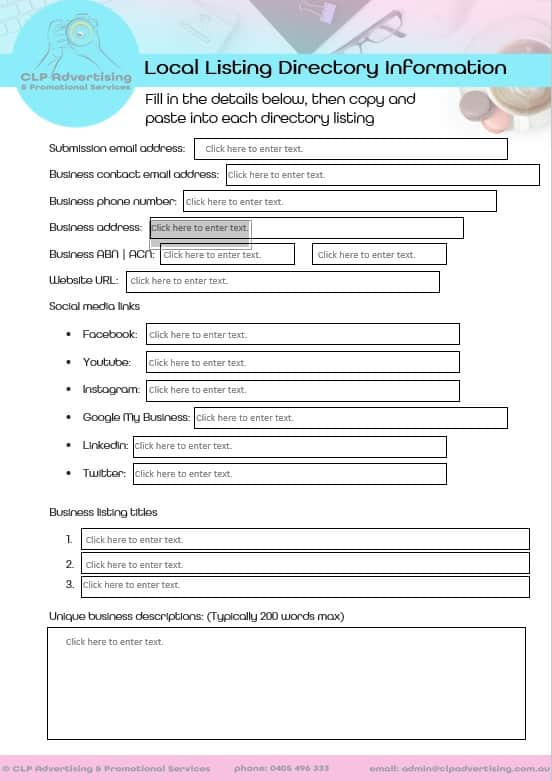 Our six tips to ensure your local listings start strong
Search each directory for your business name and phone number to ensure there are no duplicate listings
Use consistent log-in details for easy followup
Use a spreadsheet to keep your activity organised (as well as your log-ins)
Use a dedicated email to separate confirmation & marketing emails
Select more than one relevant category if the directory allows it (take into account what your competitors use)
Complete as much of your business listing as possible, including great photos
Ensure your name, address and phone number (NAP) matches those on your website and Google My Business listing
Check for confirmation emails immediately
If you have more than one location, link to the relevant location page on your website (e.g: www.blahblah.com/perth)
Write a unique business description – don't copy & paste from your website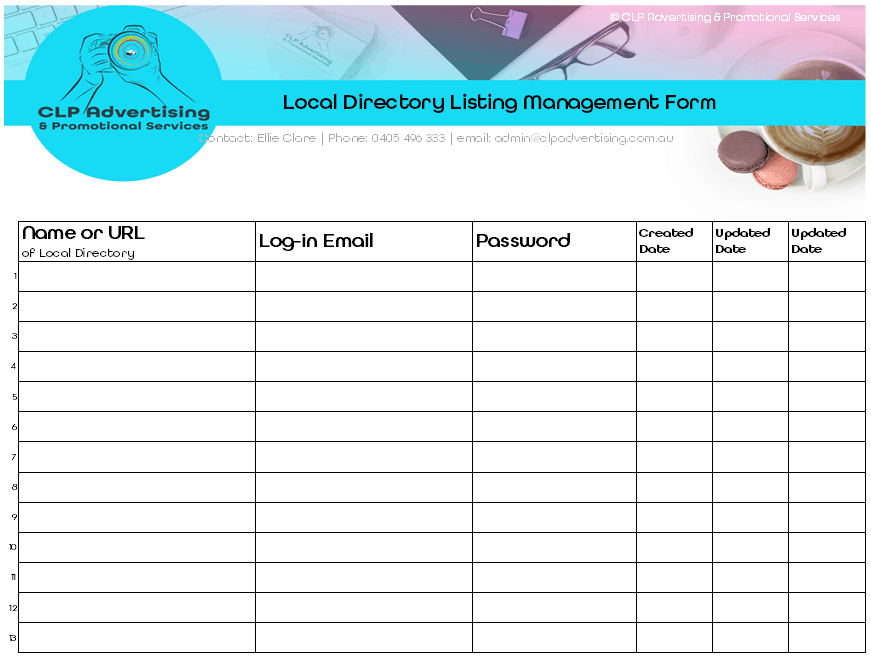 We have created a Local Directory Listing Management Form to help you keep track of your activities and log-in details. Click download below.
What are the best Australian local listing directories?
Here is a list of directories ranked by Google search traffic. All have been tested to ensure submissions are approved (testing completed by SEOcopilot)
Click on each of the directories above and use the information you have gathered to create your local listings now.
Let our experts take care of it for you
Being time-poor as a small business owner is so common; you just don't have the spare minutes to sit down and create a bunch of local listings! That's OK, we have got you! Use the coupon code below to get your first 30 minutes FREE when we create your local listings for you.